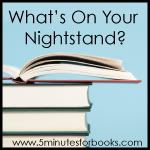 Time again for another What's On Your Nightstand over at
5 Minutes for Books
.
*Wicked cackle*
If I only put four books on my nightstand then I apparently can accomplish what I've set out to read! I'm rather tempted to do the same thing this month because I love crossing everything on my list! But maybe I shouldn't become too attached to that idea. At any rate,
last month
I said I was going to read:
This next month I know I will be reading the following:
1 and 2.
Carney's House Party and Winona's Pony Cart
, both by Maud Hart Lovelace. I'll be reading this as part of the
Reading to Know Book Club
. Annette is leading the discussion for the month of March and she is allowing us to choose whichever title we like by Maud Hart Lovelace. I own this book (which contains two titles) but haven't read either yet. Looking forward to them!
Then, for review I have:
3.
Pardonable Lies
which is the
first
third in the Maisie Dobbs mysteries. After reading
a Charles Todd mystery
, several of you recommended Maisie Dobbs. Shortly thereafter I was asked to participate in a blog tour with a title from the Maisie series and I couldn't really pass it up. (I started reading this book a day or so back and realized it was NOT the first title in the series. I just forgot to update my post to say so! It is, as Emily pointed out in the comment section, the third.)
4.
Breakfast with Bonhoeffer: How I Learned to Stop Being Religious So I Could Follow Jesus
, by Jon Walker. I sought this one out so I'd really best get to it!
5.
The Cats of Tanglewood Forest
, by Charles de Lint. This is a new piece of middle grade fiction that sounded moderately interesting and so I thought I'd give it a go.
Actually, I'm feeling a little top heavy as relates to review copies of late. I have this suspicion that there are more on the way that I accepted and then forgot about. I fear that by the end of March I'll be climbing walls to get away from the pressing demand of review copies and will desire all the freedom in the world again to read whatever I like from my own home book cases. (Several titles are currently calling to me and I'm forcing myself to ignore them at the present.) I shall slip in my own personal choices when and where I'm able. But the above titles I must get to.
Soooo, that is what is on my nightstand at the present. What's on yours?