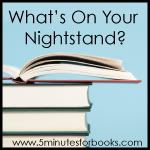 Time for another What's On Your Nightstand with
5 Minutes for Books
. And it's the first of the year so I get to start completely fresh! (
Yay!
)
I walked around the house considering my reads for February and here is what I think I'd like to read and/or know that I will be reading:
I
will
be reading
The Scarlet Letter
in conjunction with the
Reading to Know Book Club
.
Here is the
2013 reading list
for the book club. As you will notice, it is entirely classics-focused. Feel free to join in any month you like!
Also, I will be reading
Little House on the Prairie
aloud with Bookworm1 in participation of Barbara's Second Annual
Laura Ingalls Wilder Reading Challenge
which she will be hosting again this February.
Head over to
Stray Thoughts
to find out more about the LIW Challenge.
I was sent a copy of
Pew Sisters
, by Katie Schuermann for review so I will be giving this a read through.
I will also be participating in a book tour for
Comforts from Romans: Celebrating the Gospel One Day at a Time
, a new release from author Elyse Fitzpatrick and publisher Crossway Books! I'm excited about this one.
I think I'll not commit to any other titles for this month. The rest will be stuff that I manage to sneak in from my bookshelves. I have a ton of books that I've been given as gifts or "had" to have at some point or another that need the reading! I like the freedom of choosing as I go along, as much as I like a list of stated goals!
Heh.
We'll just say that any other titles beyond the above will be a surprise, ok?
Now. What's on your nightstand?! I'm off to find out!