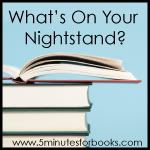 Time for another
What's On Your Nightstand
over at
5 Minutes for Books
!
*****
I might as well just laugh at myself and go with the flow of life as far as nightstand posts go. Life has been one big adventure of late with lots of family changes and activities. I'm totally loving it but it's not leaving me with all the time to read that I had before.
Which leads me to a bit of bloggy news:

For the immediate future, instead of five posts a week here at Reading to Know, I'll be switching to THREE posts a week, effective next week.
It's getting harder and harder to keep up a 5-a-week posting schedule and the summer promises to be full of family (a wedding and visiting!) and good weather (gardening and hiking!) and I've been investing more time with my kids (good things!) and so blogging is going to have to cut back a little. I even told myself that I don't have to write a review for every book I read. (Then I
gasped
and asked myself WHAT was I THINKING!? How will I remember what I thought about a book unless I write it out!??!) We shall see. I'm trying to give myself permission to relax on that point.
5-a-week post will resume when life allows. But for now, we'll stick to three days. I'm not saying
which
days because I like flexibility. So you'll just have to be surprised.
******
Last month I mentioned on my
nightstand post
that I really wanted to spend May tackling review copies. I did a good job clearing off my shelves a bit and I plan on continuing to work at that during the month of June as well. I'd really, really like that stack to shrink!
The following "for review" books were read and each title is linked to my thoughts:
1.
The Apple Orchard
- I had high hopes but they were dashed.
2.
Secret Storms
- I had high hopes and they were realized.
3.
The Sasquatch Escape
- Ended up being a fun time.
4.
Frozen in Time
- Not a fun time for the individuals which this book is all about, and not a five-star read as far as I was concerned, but I did appreciate aspects of it.
5.
I Am A Church Member
- This one was read and reviewed
over at 5 Minutes for Books
and I'm linking it here specifically because I think it's a must, must,
must,
must,
must
read for Christians everywhere. Do check it out!
The only title I managed to get to from my personal reading stack was
Island of the Blue Dolphins
which I read in conjunction with the
Reading to Know Book Club
. My thoughts on that are forthcoming.
As for what I hope to "knock off" in the review department in the month of June?
The Shape of the Eye: A Memoir
- This one is top of my stack at the moment.
Write This Book: A Do-It-Yourself Mystery (The Secret Series)
, by Pseudonymous Bosch - I really can't rightly say what I think about this one! We'll have to see. I'm curious!
The Keeper of Secrets: A Novel
- Another modern novel which caught my attention and shows promise. Fingers crossed!
The Art Forger: A Novel
- 'Nother one of those modern novels!
Paper: An Elegy
- Because I'm just terribly curious.
I can barely mention my own personal reads in light of my stack of review copies (things are out of control there....I'm working on re-figuring things! I dislike not being able to get to my own reading stack!) but I WILL be re-reading
Through Gates of Splendor
in conjunction with the Reading to Know Book Club. Barbara from
Stray Thoughts
will be hosting the discussion for the month of June. Please feel free to join in and read this book with us if you like!
I will also be re-reading
The Search for the Delicious
with my in-town book club.
And generally, we will be staying busy with happy things, but distracting things!
Here's to goals, which we make for sanity sake, right?!