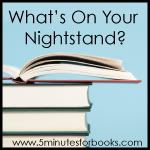 Time again for another What's On Your Nightstand over at
5 Minutes for Books
.
Well, we have just concluded an AMAZING weekend with our family in which my sister-in-law performed her senior recital (for composition) and made the entire family teary-eyed and overjoyed. Our house has been packed out by our favorite people in the whole world and now our refrigerator is full of leftovers, meaning I don't have to cook all week long. I'm pretty sure anyway. With all of the happenings around here I clean forgot that tomorrow is Nightstand! Yet here we are (again) and I'm looking into May.
I knew April was going to be kinda crazy and so
I tried to keep my expectations low
. I don't think I succeeded in keeping them low enough but this is how I fared:
1.
The Maid and The Queen
. I did read this one and the title is linked to my review. Loved it. Highly recommend it!
2.
The Miraculous Journey of Edward Tulane
. I did read it but I haven't had a chance to sit down and write out my thoughts just yet. I should be able to get to that shortly.
3.
War of Words: Getting to the Heart of Your Communication Struggles
, by Paul David Tripp. I didn't get anywhere near this book this past month. I'm going to push it into May because I do want to get to it sooner rather than later.
4.
Matthew (St. Andrew's Expositional Commentary)
, by R.C. Sproul. I started it! I'm just a few chapters in so this'll continue onto the May reading docket as well.
5.
No Name, by Wilkie Collins
I read for the
Reading to Know Book Club
. Loved it. My non-spoiler review is linked to the title. Highly recommended!
So what are my goals in May? Well, I'm hoping to clean off my bookshelves (again). I've been declining review books of late so that I can catch up as soon as possible and be ready to read
1. Finish
Matthew (St. Andrew's Expositional Commentary)
.
2. Start AND finish (ha)
War of Words: Getting to the Heart of Your Communication Struggles
.
3.
Island of the Blue Dolphins
is the book of choice for the May edition of the
Reading to Know Book Club
. I haven't decided whether I will include Bookworm1 in this and make it a read aloud or read it by myself. I've never read it. Any thoughts? Advice? Opinions? I'm listening.
Amy from
Hope is the Word
will be leading the discussion for the month of May. Feel free to join in with us just for this one month if you please!
Then I have some review copies which I really need to knock off. For simplicity's sake, I'll just link titles.
4.
The Apple Orchard
, by Susan Wiggs. This is a modern novel but I'm taking a chance on it as it is set in World War II and the publisher's description gave me hopes that I would enjoy it. We remain ever hopeful.
5.
The Shape of the Eye: A Memoir
, by George Estreich. I'll be reading this one for review on 5 Minutes for Books/Mom.
6.
Secret Storms: A Mother and Daughter, Lost then Found
- This one is a story surrounding an adoption so I'm very curious.
7.
The Sasquatch Escape (The Imaginary Veterinary)
, a new piece of middle grade fiction by Suzanne Selfors. Because sometimes you just have to know.
8.
Frozen in Time: An Epic Story of Survival and a Modern Quest for Lost Heroes of World War II
- Because it sounds
awesome!!!
I'm hoping I can make a considerable dent in my reading stack this month. We have a few getaways planned as a family so I'm not entirely certain what the reading month will end up looking like but we'll give it a go and hope for the best!
So what's on YOUR nightstand? I'll be following links to find out!