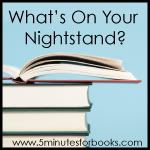 Yes! Moving right along to the end of the year. I tell you time is going by faster and faster. What is up with that?!
October has been a grand month around here. We traveled south to see family and have some fun (and spend time in the SUNSHINE) and that interrupted my reading time a bit. But it was worth it! Oh, yes it was.
Here is
last month's nightstand list
. I think I estimated correctly for last month. I'm still working through some of those reads but I shall finish them all before the end of the month.
I did complete my reading of:
The Jungle Books
(linked to thoughts) - Surprising in some respects but I did appreciate the reading of it.
The Picture of Dorian Gray
. Review forthcoming.
Woah.
Crazy Busy
which I recommend as good food for thought. It won't solve your problems but it might help you to think through them.
The kids and I are about halfway through with
A Nest for Celeste
. It's a fast read and I anticipate us wrapping it up by next week.
I still haven't started
The Zookeeper's Wife: A War Story
but that's up next. I was working to finish
Dorian Gray
.
And now to make a plan for November. I think it will go something like this:
Little Women
, by Louisa May Alcott.
This is the November selection for the Reading to Know
(Classics) Book Club
. If you'd care to read (or re-read) along with us, please feel free to jump in!
The Incorrigible Children of Ashton Place: Book I: The Mysterious Howling
which comes
recommended by Barbara
at Stray Thoughts. I picked up a copy and took it with me on vacation but didn't get to it. I'm curious though!
Under the Lilacs
, also by Louisa May Alcott. Just because. I purchased a copy but have not yet read it. I should.
Then I've accepted the following titles for review:
What Women Should Know about Facing Fear
And the author of the following e-mailed asking if I'd like to read her book. I could not resist. I'm very much looking forward to diving in and seeing what she has to share.
Bargain With A Devil: The Tragedy Behind Gone With The Wind
And we'll leave it at that as far as expectations are concerned. :)
Now, off to hear about what you all are reading! And my TBR list will grow longer, no doubt . . .