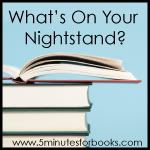 Time for another nightstand with
5 Minutes for Books
! (Sigh.)
Last month I learned that by saying that I'll take less review copies doesn't mean I should exist without A Plan. I didn't accomplish as much reading as I meant to somehow. So this month I'll try coming up with a more reasonable, thought-out PLAN and see how that goes.
Last month
I said I wanted to read the following:
1.
Little House on the Prairie
in conjunction with the
Reading to Know Book Club
and Barbara's
Laura Ingalls Wilder Reading Challenge
. I opted instead to read
On the Banks of Plum Creek
aloud to my kiddoes, which is the title we were on. We're about halfway through with the book and I should have my review written and up by the end of the week!
2.
The Passion of Jesus Christ
by John Piper. I am reading this one as a morning devotional and I am halfway through this.
3.
The Complete Father Brown Stories
by G.K. Chesterton. I haven't made much progress with this one simply because the stories don't conclude in a manner that I am tracking with. I discovered when I first started these stories that I had to read several in a row to stay in tune with Chesterton and lately I've tried reading only one story at a time. I think it would be best if I just plowed on through and read them straight as opposed to reading a story here or there. I'll plan to finish this project in the coming month.
4.
The One Year Chronological Bible
. I'm on track with my reading thus far, being in the book of Leviticus at present. I'm reading the New Living Translation which wouldn't have been my first preference but it was the "chronological" Bible that I found a copy of at the best price. It's interesting reading this version. (I am used to the NKJV but have switched to the ESV of late.) I really am enjoying reading the Bible through chronologically.
Moving on to this coming month (finally) I will attempt to tackle the following stack:
The Little White Horse
, by Elizabeth Goudge. I have been
waiting
to read this one aloud with my kids. This title is the Reading to Know Classics Book Club pick for the month of March. Stephanie from
Simple Things
will be leading the discussion and we'd love to have you read along with us if you are interested!
Mission at Nuremberg: An American Army Chaplain and the Trial of the Nazis
, by Tim Townsend. I accepted this one for review because,
really
, how could I
not?!
The Romanov Bride: A Novel
. I am
SO EXCITED
about this one! It's the third in a series by Robert Alexander which I have been wanting to read for
FOREVER (or, three years)
! The first title I read (and l.o.v.e.d) was
The Kitchen Boy
. (Linked to thoughts.) The second was
Rasputin's Daughter
which was unpleasantly weird but also intriguing in a horrible way. I can't say I recommend the second as whole heartedly as the first in the series. I found a copy of
The Romanov Bride
at Goodwill last week (joy of joys!) and it's all I have managed to do to hold off while finishing up a few other titles I was working on.
Gleanings In Genesis
, by A.W. Pink. I've been chipping away at this title since the end of December and I'd like to finish it off in March.
Giants: Sons of the Gods
which I fully intend to read unless someone presents me with a very good reason not to. A friend was telling us about this book and I've just ordered it. It's the topic which is totally occupying my mind at present and I can't wait for the book to arrive so that we can devour it. Just the *idea* (which is not a new one, although this title is newly published) is thrilling me endlessly.
Then I would like to finish up
The Complete Father Brown
series as well. Beyond those books, we'll see what else can be squeezed in. I'm so looking forward to my reads this month though. It'll be a fun reading month!
What's on YOUR nightstand? As always, I can't wait to find out!