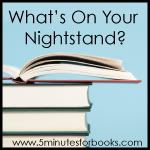 Hurray! I'm glad it's time for Nightstand. Last month's list was helpful in keeping me focused this past month - which contained a few surprises in family life and schedules. When things were a bit more chaotic it was nice to have a list to refer to, even if I didn't quite get everything read that I wanted to.
I had
hoped
to read the following:
1.
The Passion of Jesus Christ
by John Piper. I'd been reading this as my morning devotional and finished it up a couple of weeks ago. I can't say that anything in particular made a huge impression on me so I opted against reviewing it. It's not a bad book, it just didn't capture me.
2.
The Little White Horse
(linked to review) in conjunction with the Reading to Know Book Club. I didn't care for it but I'm in the minority on that one!
3.
Mission at Nuremberg: An American Army Chaplain and the Trial of the Nazis
. Finished it yesterday! AWESOME! Review forthcoming.
4.
The Romanov Bride: A Novel
. Finished! Review forthcoming. (Loved it also.)
5.
Gleanings In Genesis
. I've been slowly working my way through this one since January. Haven't been able to touch it this month.
6.
Giants: Sons of the Gods
. I've started it. Fascinating! It's my goal to finish that one up in the next week or so.
This coming month holds some long anticipated travels for us so I'll either have limited reading time or more than I expect. Hard to say.
Here are my goals:
1. Plug away at
Teach Me to Pray
, by Andrew Murray which is my new morning devotional book. So far it's motivational which is what I was after.
2. Finish
Giants: Sons of the Gods
.
3. Read
My Man Jeeves
which is the April selection for the
Reading to Know Book Club
. If you've never read P.G. Wodehouse before, do try him out this month! I hardly think you'll be disappointed.
Note: If you've already read
My Man Jeeves
but would like to try out a different Wodehouse, please be our guest! There is no such thing as a bad Wodehouse.
4.
Desiring God, Revised Edition: Meditations of a Christian Hedonist
, by John Piper. Some friends of mine and I are going through the Desiring God DVD series this spring and I picked up the book to read alongside it. I need to get going on this title.
5.
Parenting the Wholehearted Child: Captivating Your Child's Heart with God's Extravagant Grace
- Accepted for review.
6.
KnowOrphans: Mobilizing the Church for Global Orphanology
- Accepted for Review
7. Any number of other titles "just for fun." ;) We shall see.
Now comes the fun part.....finding out what's on YOUR nightstand! See who else linked up to participate in this monthly meme over at 5 Minutes for Books.