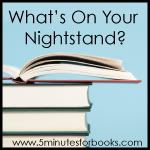 It's time again for another
What's On Your Nightstand
which is a monthly meme hosted by
5 Minutes for Books
. The basic idea of the meme is to share your reading goals and plans for the upcoming month.
I missed last month and don't even remember the month before (not looking it up this time!) and so I shall start with a clean slate. At the time you are reading this post, I will be returning home with Bookworm4 (!!!). More about that in the near future but for the present, let's just say that the addition of the fourth child is certainly cutting back on my reading time. (And that's perfectly ok!)
Because I don't anticipate much reading time, I'll keep my own expectations low and only list a few of the books that I have laying about that I'd like to get to sooner, rather than later.
Books I KNOW I will read:
1. I will keep up with my Bible reading. (I've been reading through using a Chronilogical Bible which is divided up into one year of reading. So far I'm on track!)
2. I will read this month's book club selection:
King Solomon's Mines
.
To reiterate about the
Reading to Know Classics Book Club
- you are welcome to jump in at any time! We alternate between reading children and adult classics to help busy readers keep up with the pace. We welcome people to jump in whichever month they'd like. To learn more about the classics-based book club and view our reading schedule for the year see
this post
.
Books I HOPE to read:
1. Next month (July) we will kick off the FIFTH annual
Chronicles of Narnia Reading Challenge
. (5 years!! Can you believe it?!?)
I'm kind of thinking that I should start reading ahead on this ASAP so that I can actually participate and lead off on the discussions! I absolutely love this particular challenge and I can't wait to visit Narnia again!
Personally I want to re-read
The Horse and His Boy
and The
Last Battle
.
Heads up if you plan to participate!
2. My in-town book club is reading
The Guernsey Literary Potato Peel Pie Society
this month. I read this book back in 2009 and I think it's time for a re-read! I'm looking forward to it as I remember it being very fun! (I'm not re-reading my review - linked - because I want to be re-surprised. My memory being what it is, I should be able to enjoy the story again like new. ) ;)
Beyond that, I won't plan for much.
:)
What's on your nightstand? I'm excited to find out!