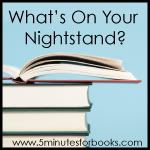 Another month down, fewer more to go before the end of the year. Ah, pathetic sadness! And yet - also exciting. Time is just whizzing along! Time for another Nightstand post to help sort through and keep the reading goals I have for myself.
Last month I mentioned
that I was reading through the Anne series by Montgomery again, surrounding an anniversary getaway to Prince Edward Island. I meant to review
Anne of the Island
in July but I forgot! Oops! I have several blog posts coming up about the trip and Anne in general. I'll still throw an Anne of the Island review post out there at some point this coming month.
The month of July was fairly consumed with The Chronicles of Narnia in conjunction with the annual
Chronicles of Narnia Reading Challenge
. I've been enjoying Narnia with my kids. I was hoping to make it to
Voyage of the Dawn Treader
this month but I don't know that we're going to make it. The jury is still out on that one. But it doesn't look good.
I did manage to finish reading
The Accidental Feminist
by Courtney Reissig. You can read my thoughts here:
Part I
,
Part II
.
Now, moving along to August reads . . .
The kids and I are currently in the middle of reading
The Secret Garden
, by Frances Hodgson Burnett. We're all loving it and will share our thoughts upon completion.
I am currently reading
The Black Star of Kingston
which is the prequel to
The Green Ember
(which you must read if you have not). The latter title is linked to my review of the same.
Lately I would say that I've been enjoying my reads a bit more. I hit a reading slump after reading
Harry Potter
last year that I only now feel that I'm fully recovering from. It probably doesn't help that I'm reading Book1 aloud to Bookworm2 (who is pleased as punch that I'm reading it to him) and so I'm enjoying a little Harry Fix. Hopefully it won't set me back. It took a long time to crawl out of the slump and read just for the fun of it again! I hope this feeling lasts....
forever
.
Here are a few of the books floating around our house which are currently awaiting my attention. I may read all or none of them. (
Heh
.) I'm trying to read as the mood strikes so as to keep this reading boat afloat as long as possible! Know the feeling?
I guess we'll see!
Now, off to find out what is on YOUR nightstand. Many thanks to the nice ladies at
5 Minutes for Books
who so faithfully keep this meme going!