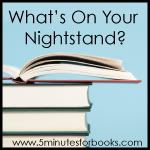 Still trucking along in my reading over here. Slow but steady!
This past month we went on a two week trip to South Korea which was really amazing and allowed for some concentrated reading time. (That's a long plane ride!) Now we're back and "settling in" to life again - which has not been without a few stresses - and I'm looking ahead and this next month's reading plan. At the start of this year I figured that assuming I could read three books a month was probably doable, alongside one read-aloud with the kids. So far that's working, so I'll try for that again during the month of April.
Last month's goals
were to read:
The Search for the Delicious, by Natalie Babbitt with my kids. (The title is linked to my review.) We read it and loved it. I can only continue to highly recommend the read to you and yours!
Vittoria Cottage, by D.E. Stevenson. I read it on the plane and loved it so much that I also read the second and third books in the series. Reviews forthcoming!
The Looking Glass Wars, by Frank Beddor. Read and reviewed it and then moved onto books two and three, completing the trilogy. (Linked to my reviews.)
Death on the Nile, by Agatha Christie. That didn't happen, so I'll bump it to the next month.
As it turns out, I
exceeded
my quota for books last month. That gives me a warm and happy feeling inside. It was great fun to read through not one but
two
entire series in "one sitting" as well. That doesn't usually happen!
This month's goals will be:
I read a lot of Bridges' books in my teens and held onto my copies. I haven't read them in a decade or so and have been feeling a tug of late. I'm between these two titles at the moment.
Lastly, for myself, I should be getting to a title I accepted for review. I haven't accepted anything for review lately but The Importance of Being Little caught my eye. I should give it a go. (I mean, like, I really need to get to it!)
As for a read-aloud with the kids, Jonathan started reading
Harry Potter and the Sorcerer's Stone
to them while we were in S. Korea. We got far enough along into it that I think we should finish it up. We've taken a week's break from anything but play so it's time to dive back into the books!
These titles are what's on
my
nightstand. What's on yours?