Yesterday was my
500th post
. So today I thought I'd just take a quick opportunity to take care of some housekeeping items. This past week has been INSANELY hectic and I'm all out of steam and haven't had the opportunity to sit down and read anything that didn't have to do with the Reconstruction Era or FDR's New Deal. I'm growing a little weary of having my reading so focused on one subject! (But I passed my American History exam yesterday - YAY!)
At any rate, we're taking another little family vacation (to attend a friend's wedding) and I'm not going to think about
ANY
thing but "relaxing" for a few days.
In the meantime, given the fact that I'm in History Mode, I thought I'd take a bit of time to reflect on the History of My Blog. It seems rather fitting, wouldn't you say?
It all began back on
July 25, 2006.
The main catalyst for getting this site off the ground was the encouragement of my friends
Calon Lan,
eLrj and a little online bookclub we started called
Bookfest.
Although Bookfest was dissolved by the winter of 2008, a few members of the club have created spin off book review sites,
Calon Lan
and myself included. Bookfest definitely provided the momentum and
Semicolon Saturday Reviews
provided the encouragement to keep going. (I had to read at least ONE book a week so that I could link up to the Saturday Review!)
Now, I have a very black and white personality and when I started writing reviews that was clear to see. I possess very little gray and, quite frankly, I have a hard time seeing it. Usually it has to be pointed out to me (which I'll describe in more detail in an upcoming book review). As I continue to pursue grace (application
and
acceptance!), my blog has changed along with me. If you've been around with me for the past 2-going-on-3 years I hope you'll have noted the change. As much as I have always loved to love books, I have also loved to hate them. Is this such a bad thing? I truly don't think so. Some books are unworthy of love, in my opinion, and ought not to be read or disseminated. Should they not be printed? Well, sometimes I think that a truly discerning book publisher should have passed a few books up.
My opinion of books that Ought Not to be Read stems from the very basic fact that books wield a whole lot of influence. The wrong book in the wrong hands can produce disastrous effects. I'm not into book banning or book burning so much as I'm into book discerning. Not every personality needs to read every book. At any rate, I haven't always been even THAT well thought out. (And that's not saying much, I realize.) Anyway, a few books I've loved to hate over the past couple of years:
Worst book for children:
A Bad Beginning, by Lemony Snicket
Worst book for adults:
The Shack, by William Young
Now, I will continue to come across books that I love to hate. And I will have my say on them. However, I'm working on adding in a little bit more grace as I go. Sometimes I succeed and othertimes not so much! No, I'm not working towards watered-down thoughts on books so much as I'm working towards
Biblically accurate thoughts
and that requires a bit of love mixed with justice. Anyway, there have also been quite a few books I have loved to love!
Book I have most enjoyed either reviewing or discussing:
The Count of Monte Cristo, by Alexandre Dumas
which I first read with Bookfest. We'll be reading it as part of our
Classics Bookclub over at 5 Minutes for Books in August
and I'm looking forward to revisiting it then!
Les Miserables by Victor Hugo
which, of course, was just read for the Classics Bookclub this past month.
Getting Serious About Getting Married, by Debbie Maken
I've also grown to learn to love focusing on a particular author or series. I had a FABULOUS time in December 2008 reading through the Narnia books by C.S. Lewis. I
began my Narnia journey
with an overview of my opinion of the series and
summarized my week here.
I also learned that one week in Narnia can just about kill you. I plan to do a Narnia Challenge this coming December so if you want to come back and join in with me then, please do! More details about that will be forthcoming -- in time, of course.
Then, of course, there was the Lucy Maud Montgomery Challenge where I also got to enjoy the fellowship of the community of book bloggers. We'll call this The Golden Age of Fellowship wherein it was discovered that many people had not really read very much of Lucy Maud Montgomery's works and rectified the situation. Or maybe we should call THIS the Progressive Period in which everyone bettered their reading condition? (Nah.)
Many of you joined the challenge
and sounded as if you enjoyed it, which means, of course, that I will make it an annual affair. (I
learned a few things myself
making this challenge a success for me as well.)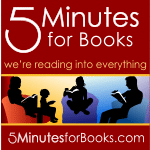 Of course, the biggest change for me and this site since 2006 was
joining the review team at 5 Minutes for Books.
That probably did more for my focus and reviewing habits than anything else. When
Jennifer
sent me an e-mail asking if I'd be interested in joining the team, she said that I could take some time to pray about it. I responded that I didn't need to pray about it for more than just a couple of seconds because I knew what the obvious answer was already. I responded quickly because I didn't want her to change her mind! And this is what it all pretty much boils down to: my involvement in 5 Minutes for Books has spawned a serious of thoughts, ideas, heart attitudes and actions that are molding and shaping me. I'm not sure if what lands on your computer screen reflects what I'm personally thinking through or not but behind every post is a thought of some sort that is directing how I view the world. If I thought for even one second that I wasn't learning or growing spiritually anymore through the
Reading to Know site
or
5 Minutes for Books,
I would drop them both like hotcakes. But the fact of the matter is, even when it doesn't seem like I'm going anywhere with what I'm doing - I am! Book by book, paragraph by paragraph, sentence by sentence, my mind is always whirling about what authors are saying and what influence any particular book is having on me or my family. So long as that is happening I will keep blogging. When it stops, so will I. It's as simple as that.
If I HAD to pick a scripture that would say what I think the strongest message I am receiving from my personal efforts, it would be Jeremiah 29:11:
For I know the plans I have for you," declares the LORD, "plans to prosper you and not to harm you, plans to give you hope and a future.
God knows I love to read and He teaches me things in every book that I pick up - whether or not it appears to have anything to do with Him on the surface. I am encouraged and built up, motivated to grow and to learn more and to learn how to accurately apply truth. There IS a hope in the printed worth, bound up in various ways and under various covers. Books are beautiful and as long as I think so, I'll be right here for you to find me.