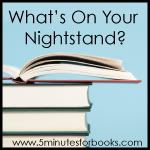 YES! I feel very happy about this last month because I read everything that was on my nightstand last month!
You can click on the titles to see my reviews:
Get Married
- check!
Start Your Family
- check!
The Wonderful Wizard of Oz
- check!
The Real Wizard of Oz
- check!
Last month was so successful that I think I'll only tell you about the four titles I purpose to read this month. It's an easier goal for me to reach, I think. Last month I told you about books I was planning to read for
Reading to Know
so this month I'll tell you about four books I intend to read for
5 Minutes for Books
, with one exception.
My friend Sarah at Library Hospital is hosting a
Maud Hart Lovelace Challenge
on her blog and I fully intend to participate in that. You might be familiar with her name because of the Betsy-Tacy books. I've never read them before and I'm glad Sarah is encouraging me in them. I picked up the first two books in the series from the library and I'm anxious to get to them.
To find out more about this challenge,
CLICK HERE
.
Now for the books I am planning to read for
5 Minutes for Books
:
I've always enjoyed the concept of public speaking, if not actually doing so. Anything that pertains to learning how to become a better communicator tends to catch my eye. (It doesn't necessarily mean that I will put into practice what I've learned. However, I do like the idea of it. Ha! Pathetic.)


This book just looks plain cool. The premise is intriguing and I'm having a hard time keeping myself away from this one while I take care of other reading projects!

The following book has been sitting on my shelf for longer than I meant it to be there. Since it has to do with adoption, and we're on the tail end of closing our own adoption, I'm feeling very motivated to read this book:
Lastly, I've had this book on my nightstand before. I started it. And it's really interesting! But then I got sidetracked. I need to pick it up and complete it which shouldn't be too hard because I was well into it and I know it's a good read.

So, no one needs to make good on their threats of not leaving comments or unsubscribing if I didn't finish my Nightstand reads from last month! I followed through! I did it!
Now I'm looking forward to seeing what everyone else accomplished!