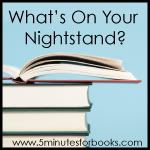 Last month was a pretty successful month as far as reading challenges go. I did
complete reading everything
that I had on my Nightstand for the month (and probably enjoyed The Sacred Cipher the most.) If you are a regular reading at 5 Minutes for Books, you'll see my reviews of last month's books pop up here in the next little bit. (You can go ahead and read my
review of Purpose-filled Presentations
or
The Jew Store
if you'd like.)
This month it's all about pleasure for me. I'm going to read what I want and when I want. That's right. And I thumb my nose at....well....nobody really. I felt this way same time last year. I just wanted to enjoy the year's end and read whatever I wanted or felt like.
I love reading and I love reviewing books but I don't like feeling it's a chore to do so. I like just reading for the sake of reading and for the rest of this year (what little there is of it) I want to just relax and not think about reading as being part of a "to do" list but a way to escape and relax.
So here's what I "plan" on reading for the rest of this month:
The read I am most excited about...
Earlier this year I
read American Lion
(about President Andrew Jackson) by Meacham and found it incredibly well-written. But I have a
love of World War II history
and so when I found
Franklin and Winston
at our local Goodwill I had to contain my whoops and hollers until I came home. I dove straight into the book and hope to share (some of) my thoughts on it very soon. Excellent writing, excellent subjects, excellent life lessons. Stay tuned.
I received an e-mail from Bethany House Publishers asking if I wanted to read and possibly review
The Silent Gift
(in the happy interest of full pre-disclosure here). It sounds rather interesting to me and like a relaxing sort of read so I'll give it a perusal and we'll see what happens!
Another book I'm looking forward to reading in the coming month is:
My Life in France
which I recently picked up.
I know everyone and their mother has read this book but
I
haven't and I want to, having seen (and
reviewed) Julie & Julia
a little while ago. Lovely movie and I expect nothing less from the book so I'm excited about that.
Lastly, I look forward to reading something by Louisa May Alcott for the upcoming
5 Minutes for Books Bookclub
. Yes, I do have the title selected but it's a lesser known work (as far as I'm concerned) and I'm excited to talk about later. Curious? Well, come back on November 3rd to find out about that. In the meantime, grab something - anything! - by Louisa May Alcott and talk about it with us on November 3rd!
Otherwise, I commit to nothing and no one and plan to enjoy myself immensely so....we'll see what happens!