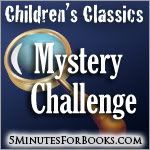 Tuesday is the first link up for the
Children's Classics Mystery Challenge
at 5 Minutes for Books and your first opportunity to share about your favorite characters, share your future reading plans or share whatever it is that you have read so far. I plan on reading from a variety of series during this particular challenge but is it really right for me to start off with anyone other than Nancy Drew? I think I should be hard pressed not to.
A few weeks ago my husband gave me the afternoon to go out all by myself and just browse or do whatever I wanted. So, knowing that I had this Mystery Challenge coming up, I made a stop by a local used book store and was ecstatic to discover two original Nancy Drew books, copyright 1930's. I found a copy of
The Secret of the Old Clock
(#1), original edition, copyright 1930 for $5.00 and then, to my utter dumbfounded joy and amazement I found my FAVORITE title (1934 first edition), #11 -
The Clue of the Broken Locket
for $0.60! (The sales clerk looked about ready to kill whoever had marked the book at that price. I was half tempted to tell her to charge me more, but the idea of saying I got it for $0.60 was somewhat overwhelming and that feeling won out.)
(I also went to an antique mall and found this replica of an old RCA radio that I picked up for a song [pardon the pun] and delights me to no end.)
Now, I assume you know, but if you don't, Grosset & Dunlap have made a regular habit of updating Nancy Drew to keep her up with the current times. She originally debuted in 1930 as a lovely, capable 16 year old girl who had a naturally quick mind and a knack at feeling out a mystery story. Created by Edward Stratemeyer and "brought to life" by Mildred A. Wirt Benson (doesn't Carolyn Keene sound melodic in comparison!?), she has survived decades of young girls, always maintaining an air of youthful fascination about her.
The background of Nancy Drew is really quite interesting to read and if you'd like to familiarize yourself a bit more with it, I would redirect you to a specific site discussing
The History of Nancy Drew
.
When I was between the ages of 12 and 16 our local library decided to clear their shelves of the 1950's editions of Nancy Drew and sold their entire series for $0.05 a book. (Oh yes. You read that correctly. $0.
05
.) I snatched up every title sitting on that pathetic little library table and hauled them all home. I spent the next few years filling in the holes and gathering up the titles that I was missing. I own almost all of them but it was only when I read #11, copyright 1959 that I realized that Nancy had been updated. My aunt had owned a copy of the 1934 edition and once when I was visiting her I had read it and fell in love with the story line. I didn't care for the 1950's edition so much as the 30's and I began hunting for 1930's titles. I've only found a few so I was overjoyed to find some at our local bookstore. For my part, I prefer the 1930's Nancy Drew but I'll save my reasons why for another post. (Come back tomorrow!)
My memories of Nancy Drew are vivid. My best friend and I lived and breathed her (and Trixie Belden) for a good long while and did our best to scrounge up and create our own mysteries out of thin air. One of the prides of my young life was securing a copy of
The Nancy Drew Sleuth Book
which we dutifully poured over for hours. We created code names for various areas around the church building where we attended and spent a great deal of time hanging out. We'd write each other notes during church in our own secret code. "Meet me at squirrel mountain." (The name for the back of the church office building where a tree was located that housed maybe one squirrel on a good day.) According to the notes which I "secretly stashed" away in the very book itself (and carried around with me everywhere), we only had one mystery to solve concerning one of our friends, if you could call it that. Apparently we were very desperate for
A
mystery. Anything would do. Any conversation that looked as if it was meant to be private between other people was suddenly fair game for us to snoop around about. We meant well although I suspect we were severely misguided at times. But we did figure out pretty quickly who had a crush on who.
I love Nancy Drew. I think she's bright, respectful and just plain, clean fun. Of all the book series that I read growing up (and I did read my fair share!) I'd say that these were probably the ones that got my imagination running at the best and most healthiest pace and which I thoroughly enjoyed. Thank you, South Texas Public Libraries, for feeling the need to modernize your collection and for sanctifying mine in the process. I owe a debt of gratitude to you!
Do you have a particularly strong or vivid memory of Nancy Drew to share? I'd love to hear about it if you do! Create a post and link up to the Challenge or leave a comment below. Either way I'll track you down (and I know how to do that now, thanks to
The Nancy Drew Sleuth Book
and Google) and hear you story.
Happy sleuthing!
*****
I'm also linking this up to the
Nancy Drew Reading Challenge
hosted by
Books, Movies & Chinese Food
.