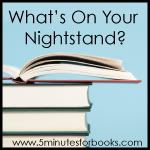 I haven't participated in this meme for awhile. Well, a few months anyway. At the tail end of 2011 I was trying to wrap up my reading lists for the year. But now we're in a fresh new year and I'm back with the Nightstand posts (which are still my favorite meme hosted by
5 Minutes for Books
!)
So what
is
on my Nightstand this coming month?
1. I'm going to (re-)read
Little House in the Big Woods
as part of Barbara H's
LIW Reading Challenge
which she is hosting during the month of February. (Click on the link to find out more about that!)
2. Of course, I'm going to read
Running Away to Home
:
Our Family's Journey to Croatia in Search of Who We Are, Where We Came From, and What Really Matters
, by Jennifer Wilson as part of the Reading to Know
2012 Online Bookclub
. (Feel free to hop in any month you like!)
3. I'm going to re-read
The Mysterious Benedict Society
with my in-town bookclub. (Because it's my month to pick.
Heh heh
.)
*insert cheesy grin*
4. I finished reading through the Book of Genesis (Bible) this month and so next month I plan on re-reading it again and diving into
Gleanings in Genesis
, by A. W. Pink.
5. Lastly, I'm taking a C.S. Lewis class at our local University this term which has been extremely
mentally exhausting
interesting. It's also rather demanding on my reading time at the present. I was caught a little off-guard as to the timing of this class and my ability to attend at all came together last minute. As a result,
An Experiment in Criticism
has been left half-read (but I think I will be able to understand more of it after this class.) By the time this posts, I'll have just finished reading
The Abolition of Man
. Next in line is
The Problem of Pain
.
It's a little C.S. Lewis heavy around here at the moment but that's ok. I don't think that's necessarily a bad thing. (ha!) It does stretch me, however. I don't find Lewis' non-fiction very easy to get through. I'm glad for the class because I'm able to grasp hold of a bit more than I know I would have were I all on my own.
All of the above is more or less what's on my nightstand for the coming month. I have a few other odds and ends to throw into the mix, as always, but these are the staples for the month and the books I simply MUST get through.
Onward and upward! What do you have planned to read in the next month? Looking forward to checking out everyone else's Nightstand posts, per usual.