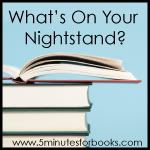 It feels like it has been
MUCH
longer than one month since the last Nightstand meme at 5 Minutes for Books. Much,

much

longer! Having been smoked out of our house the past month, I guess that sort of explains it. All of my reading goals for the year have been shot right from the get-go but I'm still reading. I'm just not reading exactly what I planned on or had hoped to read.

Checking back on my last Nightstand post . . . I
did
manage to read some of my list and that makes me happy.

1. Little House in the Big Woods
. I read this as part of Barbara's LIW Reading Challenge which she has hosted this past month. Bookworm1 and I managed to wrap that one up and we'll be sharing our thoughts on that tomorrow.

2. The Mysterious Benedict Society. (Linked to my thoughts.) This was a much anticipated re-read for me and I'm super glad to have had the opportunity to revisit this one.

3. Gleanings in Genesis
. Didn't happen. This book has been "book napped" by the cleaners and I likely won't be seeing this one again soon.

4. The Problem of Pain
, by C. S. Lewis. I

did

read this one and took a bunch of notes from the read. My notes have been packed away and so I won't be able to review that one until I get them back. That is probably just as well as I'm still thinking about what I think about C.S. Lewis after reading this particular book!

As for my goals for the month of March? Well, I plan on reading whatever books I can get my hands on, essentially. Since my books are all packed away at the moment, I've accepted more books for review, which you might have noticed. I had intended to review fewer books this year but right now I'm just looking for fun and interesting things to read and think about while we wait to get back into our house. I've grabbed a few titles from the library and also have a nice little stack of review copies to get to which include:

1. Secret Life of a Fool: One Man's Raw Journey from Shame to Grace


2. The Nature Principle: Human Restoration and the End of Nature-Deficit Disorder


3. Stasiland: Stories from Behind the Berlin Wall


4. Family Vocation: God's Calling in Marriage, Parenting, and Childhood


A nice little collection of reading material.

From the library, I picked up the next book for the 2012 Reading to Know Bookclub, The Pilgrim's Progress
, by John Bunyan. Having not read this since I was a teenager, I'm looking forward to delving into it again.




Lastly, just a note to say that I picked up a copy of The Rise and Fall of Mount Majestic
from the library since my copy is packed away. (I bought it on high recommendations.) And not to say that I'll not trust the sources again (wink and laugh!) but I didn't care for it

at all.

I got about halfway through before I simply had to stop. I don't know if I did't like it because I had a raging headache when I tried reading it or if I got the headache from reading it. I simply thought the author tried too hard to be witty and clever and therefore it came across as juvenile to me in the worst sort of way. At any rate, I'm going to pass that one on by unless someone convinces me thoroughly to give it another go.




That, my friends, is the state of my portable Nightstand this month. What's on yours?!