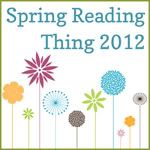 The end has come and I confess to not being ready for it. Yet, all good things must come to an end. I didn't meet all my goals (and am therefore annoyed at myself) but I did make some progress.
Here was
My Post of Great Beginnings
.
Here is what I accomplished from that original list (all linked to my reviews):
1.
Escape from Camp 14
- I found this story to be intriguing, moving and powerful. It is not an easy read, but I rather recommend it all the same.
2.
Family Vocation: God's Call in Marriage, Parenting and Childhood
- I thought this one was so-so. It's not my favorite book on marriage and the family. It's also not my least favorite. (Which reminds me that I was going to create a post sharing my favorites for those who were interested to know what they are.)
3.
The Secret Life of a Fool
- Moderately interesting. I can see how this book would be a very useful tool for some.
4.
Summer Lightning, by P.G. Wodehouse
- Wodehouse is always good for a laugh.
5.
The Adventures of Tom Sawyer
- This was a re-read for me and I'm so glad that I picked it up again! My opinion of it was altered by this particular reading. I was impressed by
the value of re-reading books
and plan to do that more often. Much more often!
6.
Emma, by Jane Austen
- Another re-read that made for pleasant company.
7.
Pippi Longstocking
- This was my first experience with Pippi and I'm inclined to say that it is my last. However, a re-read of this one outloud might change my opinion. I reserve the right to change my mind.
Of course, I also read many other books in addition to the ones listed above, but these were the ones I was primarily focused on getting to during the Spring Reading Thing challenge. Thank you, Katrina, for hosting this. You can bet I'll be participating in the Fall Into Reading Challenge which I hope organize my reading towards the end of the year.
In the meantime, I'm looking forward to hosting
The Chronicles of Narnia Reading Challenge
next month. I'm ready to dive back into Narnia for a bit! Who's with me!?
HAPPY SUMMER TO YOU!