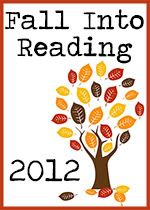 It's the
hap-happiest season of allll...!
I do love fall.
I love Katrina's
Fall Into Reading Challenge
which she hosts at
Callapidder Days
because it lights a fire under me to focus on the books that are the
most
important to me. It signals the end of yet another year and I have to tell myself not to feel guilty for anything that has gone unread. This shouldn't be a guilt-led list! Rather, it should be more of a fun list, I think.
Right?!
Of course right.
Without any further conversation, here is what I plan on giving my best shot at reading before December 22nd (when Christmas vacation officially commences and fall is officially over). It's an ambitious list but I always feel more inspired to read on cozy fall days.
1.
Uncle Tom's Cabin
2.
Jewel of Persia
3.
A Christmas Carol
I'll be reading the three titles listed above in conjunction with the
Reading to Know Book Club
. Feel free to jump in any month for any title that strikes your fancy!
4.
The Story of Ain't
:
America, Its Language, and the Most Controversial Dictionary Ever Published
5.
Marvel Comics
:
The Untold Story
6.
And Now We Shall Do Manly Things
:
Discovering My Manhood Through the Great (and Not-So-Great) American Hunt
7.
Double Blind: A Novel
8.
The Midwife of Hope River
:
A Novel of an American Midwife
All of the above are books I accepted for review and I'll share my thoughts on those titles either here or at 5 Minutes for Books.
Finally, I'll list the books I plan to read just for the fun of it! Because I want to, because they are waiting for my attention on my bookshelf or for some other random purpose.
9.
The Second World War, Volume 2: Their Finest Hour
, by Winston Churchill. (Seriously would like to finish this one before the year's end!)
10.
Horten's Miraculous Mechanisms: Magic, Mystery, & a Very Strange Adventure
(It comes highly recommended!)
11.
Horten's Incredible Illusions: Magic, Mystery & Another Very Strange Adventure
(I bought the sequel as well.)
12.
One More Sunrise
(I read this duo's book,
The Silent Gift
and loved it and so I'm curious about this title.)
13.
Choosing Gratitude: Your Journey to Joy
(Re-read)
14.
Angels in the Architecture
:
A Protestant Vision for Middle Earth
(Re-read)
That's probably all I should list or I'll annoy myself. I do, of course, have a loaded bookshelf but we'll see how far we get.
Do you have fall reading plans? Do share!