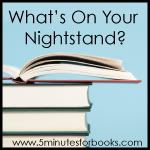 Yay! It's Nighstand time over at
5 Minutes for Books
!(***
Or rather, it will be - TOMORROW. I believed myself to have set this post to publish tonight but apparently I had a little accident and it posted this morning instead.
) I really have found my Nightstand posts to be so helpful in keeping my reading goals these past few months in particular. I'm trying to make sure I'm setting up reasonable goals and expectations for myself to help me effectively chip away at my TBR list. This is also helping me to keep track of which review copies I really need to get to next. I love looking back and what my goals were for last month to see if I actually succeeded at them. This month I didn't completely succeed, but I won't be too hard on myself. (heh)
Looking back to last month I said I wanted to read:
I wanted to finish
The Man in the Iron Mask
and I did! Woot! Thanks to a light attack of some stomach virus and a day in bed, I finally got the thing read. I should have my review up . . . soon-ish. There's
a book club to deal with
first!
Uncle Tom's Cabin
. I'm supposed to have this read by Friday for the
Reading to Know book club
. So. I will. (ahem)
One of the review copies I was hoping to finish last month was
Marvel Comics: The Untold Story
. I read it, cautiously wrote my review of it, and still found people to be
*clears throat*
passionate about their comics. I learned more about Marvel Comics than I really wanted to know. At any rate, I linked the title to my review which posted at 5 Minutes for Books if you'd like to learn more about that particular book.
HARRY POTTER
! I did read it and shared my (very long) thoughts on it this past week. Click on "HARRY POTTER" to read what I had to share. ;)
Angels in the Architecture: A Protestant Vision for Middle Earth
. Epic fail. (I'm starting to become really annoyed at myself for not getting to this one.)
So, what are my goals for October? Let's start with
Angels in the Architecture: A Protestant Vision for Middle Earth
.
And while we're at it, I'd like to re-read
Choosing Gratitude
. (Linked to my original thoughts.) Annette at
This Simple Home
recently
read this for the first time
and I wanted to re-read along with her. Alas, I seem perpetually behind people in my reading of books by at least a month. It's time to catch up! (I also have this title on my
Fall Into Reading Challenge list
so as to give myself special permission to get to it!)
I would like to
finish
Making Room: Recovering Hospitality as a Christian Tradition
which I am about half way through. I started it a few weeks ago and have been snatching it up in between chapters of
The Man in the Iron Mask
.
Other than that, I have a bunch of review copies that I'd like to zoom through as quickly as is humanely possible during November so that I can have a relaxed reading month in December. I have in my stack:
But the review copy that I'm probably most looking forward to is:
Women, Slaves, and the Gender Debate
:
A Complementarian Response to the Redemptive-Movement Hermeneutic
. I want to read this one in conjunction with
Uncle Tom's Cabin
so I should be getting to it fairly shortly!
I suppose in summary I'm saying that I hope to decrease my review stack significantly with the goal of relaxing during December and setting myself up to accomplish more of my personal reading goals in January. (Because yes, I'm the type of person who thinks ahead that far. And farther, really.)
What's on your nightstand!? As always, I can't wait to find out!