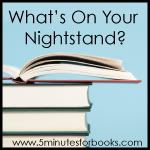 Another month. And
what
a month it has been around here! Adjustment for Bookworm4 (who is 2 to start with!) has been good but tiring. He doesn't sleep well so . . . neither have we! Despite that, I have managed to read a few books these past few weeks.
I
tried to be realistic last month
about reading and didn't set many goals. Good choice! I didn't meet many goals of any sort! But we're all doing well and that's what's most important.
Last month I needed to read:
1.
The Guernsey Literary and Potato Peel Pie Society
. I did that! I didn't review it because I couldn't think of anything particularly new to say. My intown book club read it together and I found both the re-reading and the discussion enjoyable. Quite the pleasant diversion.
2.
King Solomon's Mines
. I am starting this one tomorrow with the purpose of wrapping it up by the end of the week (fingers crossed!) for the
Reading to Know Classics Book Club
.
3. I wanted to get started on Narnia for next month's
Chronicles of Narnia Reading Challenge
. I have done that!
The kids and I are reading
The Horse and His Boy
and I am reading
Live Like A Narnian
(a new release with a title I am very envious of).
Next month should be more stable and I'm hoping to read the following:
1.
101 Dalmatians
, by Dodie Smith. I'll be reading this one aloud with the kids (after
The Horse and His Boy
) also as part of the
Reading to Know Classics Book Club
.
2.
Dancing on the Head of a Pen: The Practice of a Writing Life
(Review copy)
After those titles I just have a lot of hopes and dreams where my reading is concerned. I want to read all of these titles in no particular order. All of them are lying about the house just waiting for me.
1.
Lady Catherine, the Earl, and the Real Downton Abbey
2.
Harry Potter And The Goblet Of Fire
3.
I Am the Messenger
4.
Redwall
We shall see!
Now, off to find out what's on your nightstand.