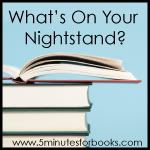 I think this post should almost be titled, "Why it is utterly pointless for me to create a Nightstand Post." Then I would provide the following subtitle: "But I'll do it anyway because it is fun." Really though, it's pretty pointless. I read only one book from
last month's post
and I didn't even finish it (
because I loathed it
).
Still, perhaps we will get somewhere in our reading this next month. (That's called living with undying hope!) There are a few reasons for me dragging through the remainder of this reading year. One of them is the arrival and integration of Bookworm4 into our family. This has caused a certain amount of upheaval and a lot of time and attention has been being given to helping him adjust. I'm happy to say that our youngest (age 2) is doing quite well and is a happy, perky member of the family. But those smiles sure haven't along very easily and I have to give myself permission to not be so demanding when it comes to my personal reading time. Yes, I
think
about reading a lot. It just doesn't happen as frequently as I've been accustomed to! But that's ok. My attentions are needed elsewhere for a season.
One really quick announcement before I launch into my hoped-for reading list for this coming month.
Our October Book Club read for the
Reading to Know Classics Book Club
has changed. Instead of reading
To the Golden Shore: The Life of Adoniram Judson
we will instead read How I Know God Answers Prayer The Personal Testimony of One Life-Time
, by Rosalind Goforth.
There are two reasons for this change:
1. The Goforth book is shorter in length (which will hopefully allow people to finish it on schedule).
2.
The Goforth book is free on Kindle
!
Hopefully that change will allow you to be able to read along with us. I was glad that
Barbara
, who will be leading the next discussion, thought to consider these things and suggest the change.
Now. As to what I would like to read next month, well . . . here goes nothing . . .
1. I am planning to read
Peter Pan
to my kids immediately after we finish up
The Princess and the Goblin
which we are chipping away at and enjoying immensely.
It's so weird to think that we only have a few books left to pack in before the end of the year. I wanted to tackle
Peter Pan
before the year was out so we'll get right on that.
2. I'm hoping everyone will pretty much have forgotten
that I said I was reading this
. Seriously. I'm on the last few "chapters" and then I'm done!!
3.
Redwall
. I am also just about out of time to read this one. Some of you might recall this Facebook Challenge which I gave at the beginning of the year to read the first six books that six people recommended to me. The only book that I've read so far off of that list was
Harriet the Spy
. I've got to get to
Redwall
this month!
4.
Lady Catherine, the Earl, and the Real Downton Abbey
5. I've been slowly working my way through
this series
on managing the home from
Titus2.com
:
With the addition of the fourth child it began to become desperately clear to me that we needed a more orderly and organized life. Slowly I've implementing a new schedule which is helping already. It is a slow learning process to me. Most people tend to think I'm uber organized but that's not actually the case. I have rather enjoyed flying by the seat of my pants, more or less, up to this point. The past few months have pretty much caught my pants on fire though so "doing whatever" is no longer an option. I find the kids and I operate well on a schedule and going through these materials has been an interesting lesson to me in many ways. I'm grateful for the help it has provided in organizing my thoughts and now it's just to find a workable plan that keeps our family peacefully productive!
6. Let's not go any further, shall we? I hate to disappoint (myself).
Life is an adventure which books are not to be left out of, that is for sure and certain. Off we go for another month of reading and living!