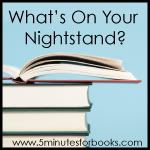 Somehow I fell off the bandwagon with Nightstand posts which is unbelievably shocking because I LOVE Nightstand and always have. I forgot about it AGAIN today until I saw people's post popping up, whereupon I was so annoyed with myself that I thought about just skipping. Again.
But no!
NO!
Let's start off right in January and keep at it because it's too fun to set aside. Plus it really helps me keep a general idea of where I'm at in accomplishing my reading goals throughout the year.
As for February, my goals are "simple" in nature. One book which I absolutely must read is rather hefty and I time consuming. My in-town book club is reading
The Canterbury Tales
. I rather suspect that will take up most of my available reading time and so I'm not going to commit to much else during the month.
As I've never read
The Canterbury Tales
, I'm excited to do so. And I am also scared to do so. But sometimes it's the harder, scarier things which prove to be the most satisfying. Let us hope that is the case for
The Canterbury Tales
!
Besides that one, the
Reading to Know Classics Book Club
is planning to read Joseph Conrad's
Heart of Darkness
. ($0.00 on Kindle, by the way.)
The last book I will commit to for the month of February is
The Long Winter
. I plan to read this one aloud to my kids that we might participate in Barbara's
Laura Ingalls Wilder Reading Challenge
which she hosts every February.
Overall I'm excited about the challenge of the first two (read:
petrified
) and am excited to read
The Long Winter
.
So, this is my plan!
What's on your nightstand? I'm off to find out!