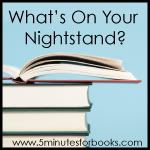 Ok! I'm "in" with a Nightstand post this month! I remembered! *fist pump* I keep forgetting until I decide that it's really too late to jump in and participate but this month I (sort of) have my act together.
The last time I participated
was in February
and I had a few goals in mind then:
I feel like I've been reading a bit too much non-fiction of late and am rather eager to dive into some fun fiction. I also really feel like I've been lacking re-reads in my diet of late. I like hearing new stories, of course, but I also miss visiting with some of my old friends and I'd like to catch up with them
and soon
!
Instead of creating a reading plan to follow for this coming month, I'll create a reading
wish list
. It is roughly the same thing and it would include the following:
The
complete Anne of Green Gables series
. Yes, all of them. In a row.
And that would probably fill up my entire reading month in a nice and tidy way. I just really miss Anne and would
love
a visit!!
I did, however, accept three books for review which I will be getting to and which will distract me from Anne:
1. The first is
Hutterite Diaries: Wisdom from My Prairie Community
. I'm just too curious.
2. The second is Melanie Dobson's newest title,
Shadows of Ladenbrooke Manor
. I've read two other titles by Dobson and enjoyed them both so when I was offered a chance at this one, I leapt on it. We shall see!
(Other Dobson titles reviewed
HERE
and
HERE
.)
3. The third is likely to raise eyebrows and that is:
The Accidental Feminist: Restoring Our Delight in God's Good Design
. I just have to.
The above three titles will be read and we'll just see how much Anne I can squeeze in. The urge grows stronger to fellowship with her every day.
Many thanks to the nice ladies at
5 Minutes for Books
for hosting
What's On Your Nightstand
each and every month. Visit
5 Minutes for Books
to link up your own nightstand posts and also to see what others are planning to read.