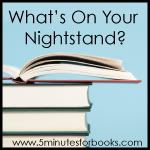 February was such a short month. We're just returning from a week long visit with family which "interrupted" reading time. Not that I'm sorry one little bit about that but it did slow down the reading.
This time our family traveled down to California via Hwy 101 and so I knew we were going to have a chance to stop and see
Jack London's Wolf House
. With that in mind, I nixed
my Laura Ingalls Wilder reading plans
and the kids and I plowed our way through
White Fang
which we finished right before we left town. I'll have my review/our thoughts about
White Fang
up shortly.
Since we were headed to California it seemed a little far fetched to me to read
The Long Winter
for Barbara's
Laura Ingalls Wilder Reading Challenge
. We've had such a mild winter in Oregon that it didn't seem quite as fun a read when you can't imagine the bitter cold as well. So, instead, I switched books and we took
Farmer Boy
along with us on our travels.
The Canterbury Tales
ended up being pretty much a total flop for me, unless you consider the fact that I was completely unfamiliar with it at the beginning of the month and am now familiar with it all that I wish to be. It's not the length that got to me, it was the vulgarity. I just felt "BLAH" towards it. Picking up that book left me with the feeling that I'd rather not be reading anything at all than that and that's never a good attitude to have when reading.
I made myself read the
General Prologue, The Knight's Tale
and
The Miller's Tale
and then I watched this three part animated series (hey. no judging.) and am calling it good.
It is interesting to read and find out about
The Canterbury Tales
from the perspective of being able to understand the myriad of references made to it even in modern culture (even if people don't quite realize that they are referencing/mimicking it). So I pat myself on the shoulder for being slightly more educated? How pompous of me!! But perhaps it will help if I also confess to you that the only way I was able to understand and track with Chauncer's original language was to read it aloud to myself like a pirate. If you read it like a pirate it actually starts to make a lot more sense. (
ha!
)
I read the first few chapters of
Heart of Darkness
before vacation and didn't care for it either. (What a depressing reading month.) But I shall make myself read that one all the way through because it's too short for me to set aside. It shan't be a favorite book though. I can pretty much tell you that right now.
So that all wraps up February's reading, more or less.
Let's look to March, shall we? I intend to have a great deal more fun reading in March.
Mostly I just have stacks of books everywhere and so I'd like to read on a whim.
The Pursuit of God
, by A.W. Tozer is the
Reading to Know Book Club
read for the month. I shall read that.
Then I might pick up any number of the following books:
We shall see what we shall see!
What about you? What's on your nightstand for this next month?