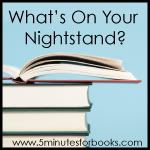 Time again to check in the Nightstand to see how much progress we've made and to set reading goals for the following month. This meme, by
5 Minutes for Books
, really is fun. I find it a good way to keep myself on track and set reading priorities for each month.
I'm also happy to say I accomplished all of my goals for last month! All titles below are linked to my reviews/thoughts.
I read The Hunger Games and had mixed feelings about it.
I read The Duggars: 20 and Counting! and liked it (despite the opposing emotions felt by many.)
I read Think, by John Piper and found much to appreciate about it.
I completed reading my first ever Gilbert Morris book - The Crossing - and have a review of that forthcoming (with accompanying giveaway.) So you can stay tuned for that if you like.
Now, what's up for this month?
My friend Sky agreed to read
A Tale of Two Cities
alongside me, so it's my mission to make it through this classic work during the month of March. I would like to make it abundantly clear that I am reading this because my husband really liked it and NOT because Oprah picked it for her bookclub reading. (My timing is terrible!) I'm also reading it because Sky said she'd read it with me (for moral support?) I don't like Dickens. So we'll see how this goes.
I hardly want to commit myself to much more than that, but here are a few other titles I have reading intentions towards:
Nanny McPhee: Based on the Collected Tales of Nurse Matilda
. I picked up the movie tie-in edition and I didn't think to check if it included the complete collected tales. It includes:
Nurse Matilda, Nurse Matilda Goes to Town
, and
Nurse Matilda Goes to Hospital
. (I've been too lazy to check and see if those are all of the Nurse Matilda stories. Anyone know the answer to that question?)
In Japan the Crickets Cry
:
How Could Steve Metcalf Forgive the Japanese
? which looks like a fascinating tale. This one is a review copy so I really DO need to get to it and likely will.
Beyond that, I'd best make no promises. Although I do have a little stack here . . .
Off to see what is on everyone else's nightstands this month!