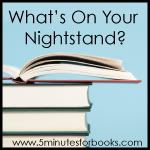 Yeah. I know. It's not Monday, Wednesday OR Friday but I'm going to make an exception to my summer posting schedule here because it's time for What's On Your Nightstand at 5 Minutes for Books and I don't want to miss it! (I need to figure out my goals here for the coming month.)*

*I opened with the same paragraph last month. I have to say that this posting M/W/F thing is sort of been annoying

to me

. So I renege. You may see the posting picking back up here because I've not been able to adequately keep track of what we're reading and doing around these parts and as this blog is primarily for me, I'm going to post more regularly. I'm annoying

me

. Why should I do that to myself?

This month it seems that Nightstand crept up on me again! I didn't complete all my reading that I set out to accomplish last month but then the month isn't over yet! Here's what I did manage to get to:

* The Silver Chair, by C.S. Lewis (linked to my review) which I read as part of the Chronicles of Narnia Reading Challenge.




* I also began reading The Narnian: The Life and Imagination of C. S. Lewis
as part of the challenge. I am about half-way through with this title and will be reviewing it next week, most likely.

* I read (and LOVED) Lady Almina and the Real Downtown Abbey. (That's linked to my review in which I highly recommend the book!

Highly!

)




* The Queen: A Life in Brief was consumed and reviewed over at 5 Minutes for Books.

* The only title I have not yet gotten to from last month's list (but still have time before the end of July!) is The Second World War, Volume 2: Their Finest Hour
by Winston Churchill. And I'm feeling determined.

As far as next month is concerned, I have these on my list:

* Tolstoy and the Purple Chair: My Year of Magical Reading
. I'm actually a few chapters into this one already. I haven't hit any road blocks with it yet. Seems fluffy but that's ok for now and I'll explain why after sharing the cover art. ;)




* My in-town bookclub is torturing me this month. The title? Bleak House
by Charles Dickens!!!! (The regulars around here might recall my passionate dislike of Dickens

?!?!?!?!

) I haven't started it yet. I loathe the idea of starting it. I'm working on the courage and the nerve. And if I perish, I perish.




So really, I probably shouldn't try to predict any of my other reads but I do have some review copies sitting around and I should probably try to get to them as well. (Yes?) Here are a few of the books in the works:

Cradle My Heart: Finding God's Love After Abortion
Love Your Enemies
, by John Piper
Tea Party Culture War


You know . . . light and easy stuff on topics which do not raise anyone's hackles!

That's about how my reading month looks. How 'bout yours? I'm off to find out!