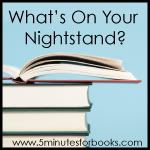 Carrie is doing her monthly Nightstand Happy Dance. Time to check in with the goals and set new ones! I love the creation of PLANS. ;)
I confess I was cringing at the thought of pulling up last month's nightstand post because I was afraid I had not done so well. I did better than I thought! Not as good as I would have liked, but ok.
Personally, I was hoping to plow through many more review copies during the month of November than I was actually able to do. That just means I'm going to have to work on more of those in December (or speed through them as fast as possible in my few remaining days in November).
From last month's night stand I accomplished the following:
Stressed-Less Living
- linked to my review which posted over at 5 Minutes for Books. I felt rather so-so towards this one. Not a huge favorite that I will remember always.

Double Blind, by Brandilyn Collins
- This was my first Collins book. I found it . . . humorous and disturbing.
Judging a Book by its Lover
- Linked to my brief thoughts.
Making Room: Recovering Hospitality as a Christian Tradition
- Linked to my review in which I highly, highly recommend that others read this. Really, do!
Women, Slaves and the Gender Debate
- Linked to my thoughts. This was the review copy which I got stuck on and spent much, much more time than I though I would reading. It's a very good book
to
read, it just took me awhile to work through.
What are my goals for December?
#1 - Dickens'
A Christmas Carol
in conjunction with the
Reading to Know Book Club
(and just because I really want to re-read it every year).
#2 -
Mrs. Miracle
, by Debbie MacComber. I read
Call Me Mrs. Miracle
(linked to thoughts) last year, not realizing it was the second book in the Mrs. Miracle series. I found a copy of
Mrs. Miracle
at Goodwill or some place and snatched it up with the intent to read it this Christmas.
#3 -
Christmas With Anne
- I've read and reviewed it before (back in 2008?! *gasp*) and I think it's time to re-read it!
I would definitely like to get a head start on some Montgomery reading in preparation for the following:
The FIFTH annual Lucy Maud Montgomery Challenge which starts January 2013!!!!
More info on that in the very near future.
We're also winding down the
Fall Into Reading Challenge
and I still have a few books on the list that I need to get to. Specifically:
Choosing Gratitude
Angels in the Architecture
The Second World War, Volume 2: Their Finest Hour
Tired of hearing me mention those? I'm tired of typing them up as "unread." Time to get reading!
So what are your reading plans as we wrap up our 2012 reading year?!