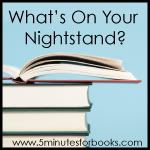 Yes! Yes,
it is
time for another Nightstand post. Your eyes do not deceive you and, unfortunately, neither does the calendar.
I had to confess upfront that I almost opted not to do a Nightstand post for the simple reason that I didn't feel like I accomplished many of my goals from last month. I had failed.
And why point this out!?
But then I reminded myself that Nightstand posts help keep me focused on reading goals. So here we are.
A quick recap of last month's goals:
Now to take a look at July.
We have a family wedding in July (Jonathan's sister is getting married) and life is generally crazy with the normal every day so I won't be trying to read a whole bunch but will be grateful for whatever time I manage to squeeze in.
The only books I plan on getting to
For Sure
are:
1. Something from Narnia!!!!
Why!? Because with the month of July comes
the Chronicles of Narnia Reading Challenge
hosted right here at Reading to Know. Here is a previous year's
introductory post
if you'd care to learn more about it.
I haven't decided which Narnia books I want to dive into. Jonathan bought me a copy of
Planet Narnia: The Seven Heavens in the Imagination of C. S. Lewis
. I've been saving it to read in July. So I suppose I'd best do that!
It's been a couple of years since I read
The Lion, The Witch and the Wardrobe
aloud to Bookworm1 (2011) and I was thinking it could be fun to read the book and then have a little movie date with him as well. Pondering that.
2.
The Wind in the Willows
! This is July's
book club
selection and I'll be reading aloud to the bookworms this coming month. In fact, I should get that going. We've got a lot to read aloud in July! Stephanie from
Simple Things
will be hosting this month's book club so be looking for some posts from her in the very near future.
3. I'm also halfway through the book
War of Words
:
Getting to the Heart of Your Communication Struggles
and would like to finish that up.
Beyond those three books, I'll keep focusing on review copies. The stack has actually begun to shrink a little bit, which I find nothing short of miraculous.
The list of review copies which are floating around my house includes:
Wish me luck?! We'll just have to see how things go around here. Posting 3 times a week instead of my normal 5 is definitely helping me stay more on top of things (like cleaning house, cooking, home schooling, etc.) but I do have to say that I miss the blogging. It's still my ultimate goal to bump back up to five but I know if I tried to do that any time soon it would be disastrous for my family! We do what we can, right!?
Now, off to see what's on your nightstands!
Happy Reading!