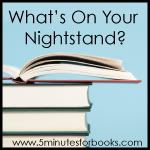 Yup!
Nightstand Time!
Time to review my past list and reorganize a bit for the following month.
I feel like things are becoming a little more orderly around here now that we aren't rabidly working in the yard and on the house preparing for my sister-in-laws
up
coming marriage. Now I have a new brother! Our yard looks pretty good for the moment and so I can fall back into reading (which is really delightful).
Here's the link to last month's nightstand. And here is what I managed to accomplish off of it:
1.
We read The Lion, the Witch and the Wardrobe
aloud as a family. Then the kids and I watched this movie which was very much enjoyed. Bookworm2 has really gotten into Narnia this year. While we read
we ate Turkish Delight
and I have a box to giveaway to one of you if you'd like to follow the last link there and leave a comment on that post.
2. I read
The Wind in the Willows
(to myself) as part of this book club. My review should be popping up tomorrow. We have until the end of the week to get that read so I'm sneaking in under the wire!
3. I'm still halfway through
War of Words: Getting to the Heart of Your Communication Struggles
. It got sidelined when I agreed to participate in this bookclub which currently has my full attention.
4.
Experiencing God at Home
- linked to my review at 5 Minutes for Books. I found it encouraging.
5. I read and
reviewed Chitty Chitty Bang Bang
here on Reading to Know. I mentioned then that I would be reading the newly released sequel,
Chitty Chitty Bang Bang Rides Again
. I did read it and shared my thoughts on 5 Minutes for Books. Click HERE to see what I thought of that.
6. I finally got around to reading
The Outcast
which is a retelling of The Scarlet Letter. I have one copy to give away and the contest is open through tomorrow so if you are interested, leave a comment on that post.
So now, what's on the list for this coming month!?
1. Checking in with the
Reading to Know Book Club
, I'll be planning to read
Daniel Deronda
.
Heather
will be leading the discussion for that book. As a total aside (sorta) you should read Heather's recent
review of American Wife
which, if you know Heather at all, is really funny and - as always - spot on.
2.
Death by Living: Life Is Meant to Be Spent
, by N.D. Wilson was delivered to my doorstep as I was typing up this post. I cannot wait to dive into that one!
3. I'd really (really!) like to finish
War of Words: Getting to the Heart of Your Communication Struggles (Resources for Changing Lives)
.
4. Another title of the same theme shows up for review purposes:
Stopping Words That Hurt: Positive Words in a World Gone Negative
. I'm thinking I'd rather like to read those two books side by side and compare them.
5. Lastly, I still intend to read
American Gun: A History of the U.S. in Ten Firearms
. I'm way behind in getting to it but I'm going to chalk this one up to "better late than never."
And that, my friends, is where I think I'll leave things this month. Now I'm off to see what's on YOUR nightstand...