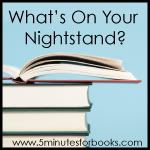 The last Nightstand post I put up
happened before our trip to England. I wasn't sure what the schedule would look like or what I might manage to read. I've felt completely scattered in my reading since coming home and I'm hoping to get a bit back on schedule as this reading year is, amazingly, coming to a close.
Here's what I
know
I need to get to before the end of October:
First and foremost I will be reading
The Hound of the Baskervilles
, by Sir Arthur Conan Doyle along with the book club readers. My friend Sky picked this one out for us this month and I'm looking forward to it.
Bonus: it's my month to pick a book for my local bookclub. I picked this same title. Two birds. One stone.
Late last year I started reading
Atlas Shrugged
and got about halfway through before setting it aside. It's a fascinating book, completely riviting and I remember exactly where I'm at in the book and everything that has happened. I keep meaning to get back to it and finish it and I'd really like to do that before the end of the year. As it's almost the end of the year, I'd better get to it!
After that, anything else I read will be for pure fun and fancy. Could be any of these -- all of which are scattered around the house just waiting for me.
Are you feeling the pressure of the end of the reading year yet? Anyone?
Looking forward to finding out your reading plans through the end of the year. Even if you aren't officially participating in Nightstand, let me know what you have on the docket. I'm curious!