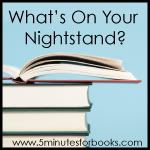 The last time I participated in the What's on Your Nightstand meme - hosted by 5 Minutes for Books - was back in February. That was an accident! I completely forgot the last two months, until I felt like it was too late to jump in. But this time I have planned ahead - and just in time! Since we're approaching the onset of summer, and thus the conclusion of Katrina's Spring Reading Thing, I need to get in gear and focus on my Spring Reading Thing goals! I love participating in Nightstand because it re-orients me and gets me moving in the right reading direction.

Consulting my handy-dandy challenge post, here's what I need to be reading in June:

1. Emma
. I am currently half-way through the story, so I'm doing good there.

2. Angels in the Architecture
:

A Protestant Vision for Middle Earth

, by Doug Wilson and Doug Jones.




3. The Adventures of Tom Sawyer
, by Mark Twain which I'm reading for the Reading to Know Book Club. I started that one today and I need to finish it quickly as this Friday I'll be posting our wrap-up post!




(June's book is A Girl of the Limberlost
which I've never read and am looking forward to reading! Feel free to join in, if you like!)

4. The Second World War, Volume 2: Their Finest Hour
, by Winston Churchill. This one now seems more daunting to me, seeing that I do not even have one solid month left to read it. However, a deadline is always a helpful thing and since I really DO want to read it - (and because I'm already well on the road to finishing up the others from my list) - I might plug through and get it done.




I have some review copies that are lingering about that I'm trying to wrap up (so that the second half of the year can be more about books on my own home bookshelves). Any "spare" reading time this coming month should be spent paying attention to the review copies. They include:



So, that's where I'm at reading-wise. Here is to a busy and full reading month!

Now . . . !

I'm off to see what's on YOUR nightstand!