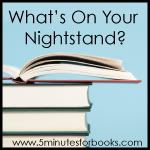 It's Nightstand time at 5 Minutes for Books!!!
And like many of you who are also participating in Katrina's
Fall Into Reading Challenge
at
Callapidder Days
, I've already stated
my main reading goals for the fall
.
My husband can attest to the fact that I first
LOVE
looking at The Big Picture, and after I've done so,
then
I like to break things down into manageable goals. So while I did already list
my overall fall reading plans
, I'm very happy to break this down by month. First though, I have to look back at
last month's Nightstand post
and see how I'm doing tracking with my goals. (Reading is a serious business you know. Must. have. serious. goals.)
For September I had said I wanted to read the following . . .
Professionalizing Motherhood. I read it and it's linked to my review. Overall, I was not very impressed or moved.
The Man in the Iron Mask. I was supposed to have read this in conjunction with Sarah at Library Hospital during the month of August. She read it and I didn't. However, I did start it! I'm about halfway through. (I was sidetracked by Horten's Miraculous Mechanisms which Jennifer and Amy both recommended with very good reason. Then I read the sequel. I now need to get back to MitIM.
I also planned on reading Pursuing Peace and did so. (Linked to my review.) I recommend it, generically, to Christian humans everywhere.
As for my specific goals for the month of October . . .
Uncle Tom's Cabin
, which was selected by Barbara at
Stray Thoughts
for the
Reading to Know book club
.
Marvel Comics: The Untold Story
which is due to be released at the first of October. I'll be reviewing that one at
5 Minutes for Books
so you'll have to look for it there. As usual, when the review pops up over at 5 Minutes for Books, I'll mention it on my (
Reading to Know) Facebook Page
.
Angels in the Architecture: A Protestant Vision for Middle Earth
which is a must re-read for me (and it's also on
my FiR Reading Challenge list)
.
Lastly,
*drum roll please*
. . .
Harry Potter and the Sorcerer's Stone
! I have tried to successfully wait until I truly was the very last person on earth to read this series before I did so. Jonathan and I have only ever read the first one - years ago - and both of us are kind of curious about the series so we're going to read through it alongside one another and watch the movies. At least, we probably will. It's a loosely stated and held to goal. (We also just recently watched the first three
Pirates of the Caribbean
movies for the first time. We liked the first one, didn't like the second or third and are waiting to see the fourth.)
Eventually
Sometimes
On rare occassions we'll take the time to catch up with whatever is popular. Anyway, Potter Fans shouldn't hold their breath while waiting for us to catch up but they can perhaps smile a bit that we have finally come the conclusion to give it all a shot. Hmm?
Now. What's on YOUR nightstand this month!!? I'm off to find out (if you're linked up to 5M4B that is!) If you aren't linked up, I'm always happy to hear about what you are reading in the comment section here below.